Undercarriage Parts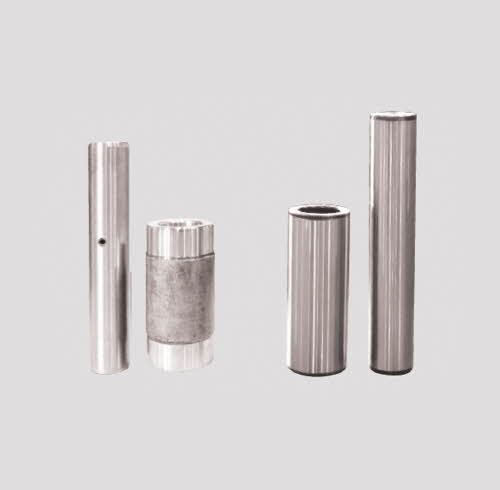 CHAIN, LINKS, PINS-BUSHING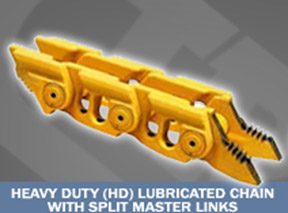 Trek Chain is manufactured from the finest quality steel, using the latest production technolody to ensure long life and resistance to wear.
Links are forged from boron alloy steels, quench and tempered for core hardness and deep induction hardened on the wear surface to provide excellence service life.
Pins and Bushings undergo a special heat treatment process to ensure exceptional strength and shock resistance resistance resulting in longer wear life. Trek's unique seal design prolongs pin and bushing life by sealing lubricants in and contaminants out.
Popular Models include:
CATERPILLAR®
JOHN DEERE® & HITACHI®
KOMATSU®
CASE®
225-4
D4D
D7EXC
FH330-3
1050J
B60-1
D75-85
1150D
225-5
D4E-EWL
D7F
SK120
350B-D
B60-3
D85EX  4
1450B
225B
D4H
D7G
SK270
450D
D155
D85PX  4
350B
235-6
D4H-5M
D7G-EWL
SK460
450E
D155AX3
PC120-5
450C
235-7
D5
D7H
SK480
D21E
PC200-1
550E
245-8
D5B-EWL
D7H-R
2154D
D275A-5
PC200-3
850D
307-B
D5H
D8H
EX1200
D30-31
PC300-1
850E
320-B
D5H-6M
D8K
EX150
D32E-1
PC300-5
850G
320-HD
D6C
D8N
EX200-1
D355
PC300-6
9050B
325-B
D6D-EWL
D9G
EX400-2
D40-53
PC400-5
330-LN
D6EXC
D9H
ZX450-3
D51EX
PC400-6
365
D6H
D9L
D60-65
PC600-6
385
D6H-R
D9N
D61EX12
PC60-6
D3C
D6H-R  3
D10N-R
D65E-12
PC650
D3G-D4G
D7
D11N-R
PC1250