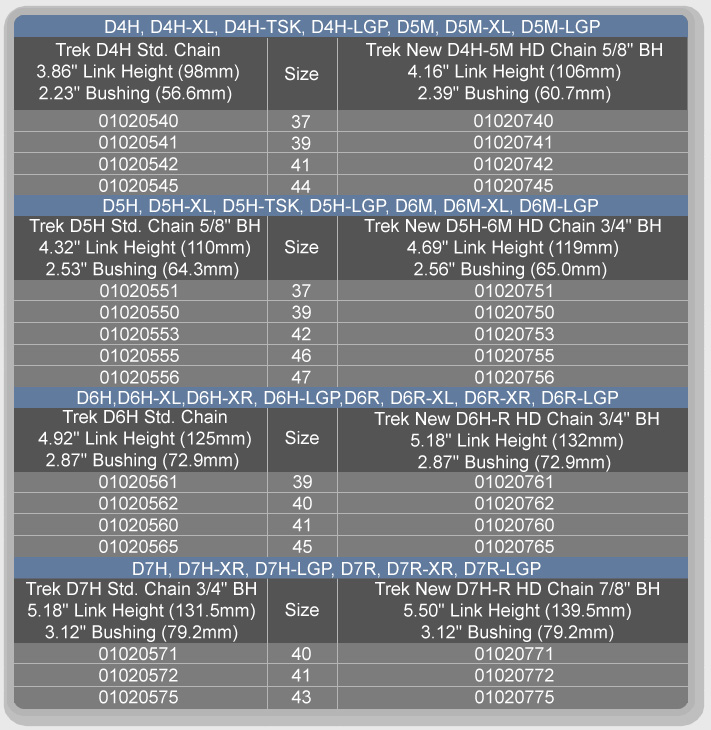 The Caterpillar D5M, D6M, D6R and D7R have the Heavy Duty chain as standard.
The Cat produced heavy duty link design is patented. Treks own design for Heavy Duty chain is a direct interchange for the Cat assembly, providing exceptional Heavy Duty performance.
The links, pins and bushings avoid the patent, therefore, they are not interchangeable with the Cat original. Trek Heavy Duty chains fit all version of rollers for the model and are a recommended retro fit to older "H" tractors where chain failures have been encountered or additional chain wear life is desired. Longer pins require guide modification when upgrading to Heavy Duty chains. D5H-6M and D7H-7R Heavy Duty have larger grouser shoe bolts and require the Heavy Duty grouser shoe. Trek Heavy Duty links have greater height, adding wear surface material for link wear. Strength improvements in Heavy Duty link pin and bushing retention make them ideal for LGP applications.

Any Equipment, trademark or logo pictured are registered property of its respective company.